In Memory
Harrison Rankin Jr
Deceased Classmate: Harrison Rankin Jr Date Of Birth: October-27-1947
Date Deceased: February-7-2015 Age at Death: 67
Cause of Death: pancreatic cancer Classmate City: Frankfort
Classmate State: KY Was a Veteran: Yes
Survived By: Christina Williams, daughter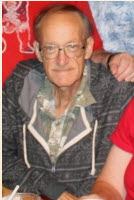 Harrison Taylor Rankin Jr., 67 of Frankfort, KY, passed away Feb. 7, 2015 after a courageous battle with cancer. He was born on October 27, 1947 in Paris, KY.
He retired as a Master Sergeant with the U.S. Army Reserves and the US Postal service with over 30 years of service. He was a veteran of the Vietnam War and served at Fort Knox during the Persian Gulf War. He was also an instructor with the University of Kentucky ROTC. He didn't stay retired for long as he started working for Rupp Arena, Keeneland, and The Committee of 101.
He is survived by his daughter Christina Rankin Williams; Son-in-Law Brian Williams, of Richmond, KY; and his companion of 7 year Doris Carper Palmer, of Frankfort, KY. He is preceded in death by his wife Mary Krekel Rankin; his father Harrison Taylor Rankin Sr.; his mother Margaret Crump Rankin; and his sister Susie Rankin Humphrey.
Casket Bearers will be Zach Clark, Brian Williams, Paul Krekel, Jackie Shepperd, Greg Maynard, and Bobby Williams.
Honorary Casket Bearers are Ted Long, Chuck Williams, Ricky Crump, Jack Massie, Duane Tracy, John Tolson, James Elam, Gene Rankin, Billy Shepperd, and John W. Crump.
Services will be at 10:00 am Thursday February 12, 2015 at Clark Legacy Center Versailles Road with Brother Robert Cable officiating. Burial will follow in Sunset Memorial Gardens. Visitation will be from 5:00 pm until 8:00pm on Wednesday February 11, 2015
Arrangements pending with Clark Legacy Center, Frankfort, KY