In Memory
Elizabeth (Libbye) Young (Mitchell)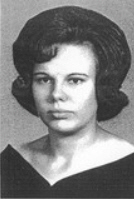 Elizabeth Ann Young Mitchell
1946 - 2013
Elizabeth Ann Young Mitchell, 67, wife of William "Pee Wee" Mitchell, died Sunday March 24, 2013 at the St. Joseph East Hospital, Lexington.
A native of Madison County, KY, she was the daughter of the late Harim and Marie Powell Young. She was a homemaker and a member of the Central Baptist Church.
In addition to her husband she was survived by one daughter, Melissa McDaniel of Georgetown; two sons, Christopher Shawn Mitchell and Robert Joseph Mitchell both of Paris; 10 grandchildren, Brandon (Diana) Mitchell, Dakota Mitchell, Lindsey Short, Courtney McDaniel, Megan McDaniel, Brittany Mitchell, Blake Mitchell, Rachel Mitchell, Gavin Mitchell and Shelby Mitchell; three great grandchildren, Brayden Mitchell, Caeson Mitchell and Hanksen Mitchell; three brothers, Owen (Janet) Young, James (Linda) Young and Gary Young all of Paris; two sisters, Deulah (Raymond) Sturgill of Mt. Sterling and Lena Puckett of Richmond, KY and several nieces, nephews, cousins and friends.
In addition to her parents she was also preceded in death by a son, William Roy (Billy) Mitchell.
Funeral services will be conducted at 12:00 PM Thursday March 28, 2013 at the Lusk-McFarland Funeral Home 1120 Main St., Paris by Rev. Sandy Sanders. Burial will be in the Paris Cemetery.
Visitation will be from 6-8 PM Wednesday March 27, 2013 at the funeral home.
Pallbearers will be Blake Mitchell, Brandon Mitchell, Dakota Mitchell, Marion Berry, Shane Lanter, John Devary and Chad Stanfield.
Honorary pallbearers will be James Young, Owen Young, Gary Young, Danny Mitchell, Doug Mitchell and all her grandkids.
Memorials may take the form of contributions to the Elizabeth Mitchell Memorial Fund, C/O Lusk-McFarland Funeral Home.